STEP INSIDE OUR SACRED STORE...
JOURNALING FOR SELF CARE...
JOIN OUR JOURNALING COMMUNITY
Get exclusive weekly card readings, monthly journaling downloads and tutorials over on PATREON.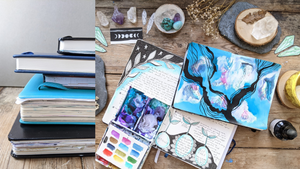 The wonderful world of Journaling...
Do you use journals to create better mental health and wellbeing?
Let's take a peek inside my journals as you show you how I use them as part of my self-care practise.
Let me see