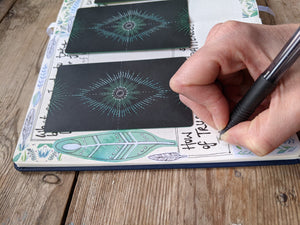 Do you keep a journal as part of your daily self care practise? And if so....what do you use your journal for? Recording tarot readings? A gratitude journal? Morning pages? A bullet journal to organise your day? An art journal to experiment creatively? .....Whatever it is, one of the reasons that I love journaling so much is because there is no right or wrong answer to this question. There is no one-size-fits-all solution. Journaling is entirely down to personal preference and what works for you. You can also combine and different methods together to suit yoru practise and in this...
---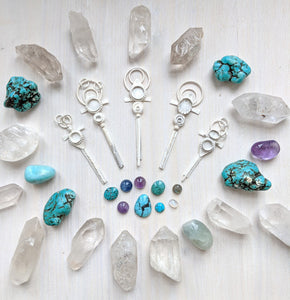 I'm so thrilled, happy and excited to finally be able to announce the arrival of the new INNER STREHGTH COLLECTION! These are handcrafted sterling silver and gemstone sacred talisman, all hand fabricated by me in my little home studio
---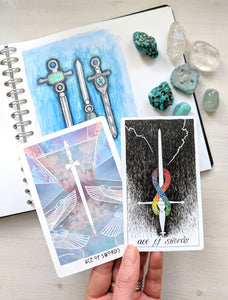 The sword can also represent a sense of protection and empowerment. Knowing that it can be use in this way to carve your path it then becomes a talisman, showing your own strength of conviction and when another hurdle arises with its help you are ready to keep going, to draw on this inner strength and fight on when things get hard.
---
• Card Readings • FREE weekly card readings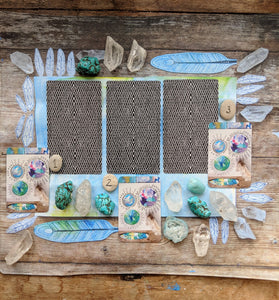 Welcome to this weeks card reading! . Choose your set of cards- 1,2 or 3? .     __________________________________ 1- 4 Swords & Shine your light. Time to look inwards to your own inner flame. You have everything inside you that you've spent so long searching outwardly for! Now is the time to slow down and face your inner demons and reconnect to your light!  . _______________ . 2- The World & Growth You literally have the world at your fingertips! Whatever you've been doing keep doing it, keep going. You are on a roll. Don't give up now, you...
---
• Card Readings • Midweek Mindset • Positive Mindset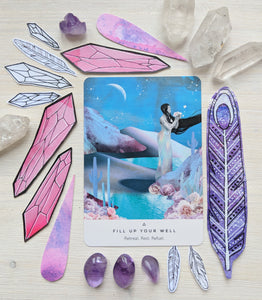 Deck: Work your light oracle, by Rebecca Campbell. ***Midweek Mindset*** "Fill up your well" . This works on so many levels, the mind body and soul connection are all intertwined. They are all linked. So if we neglect one area we pull ourselves out of balance. . Do what you can today to honour all 3 and fill up your inner well❤️